Bowdoin House Concert Series
The Bowdoin House Concert Series occurs every now and then. In the last couple years, Pam has hosted Kevin Burke, Ten Strings and a Goatskin, Lisa Ornstein and Le Bruit Court dans la Ville, Grainne Hambly & Billy Jackson, David Greely, Raz de Maree, the Nordic Fiddler's Bloc, Andrea Beaton, Keith Murphy and Becky Tracy, Wendy MacIsaac and Mac Morin, Jeremiah McLane and Tim Cummings, Alex Kehler & Nicholas Williams, Brendan Taaffe, Anita MacDonald and Ben Miller, Pete Sutherland, more.... The concert is almost always preceded by a jam session and potluck, and often socializing continues afterwards. It's always TOP talent and always a great time!! Reservations are encouraged for all concerts, to reserve a seat or for more info: Pam - pam@pamweeks.com, or call 207-666-3709
Sunday March 10, 2019!!! (finally rescheduled) -

Ken Pearlman and Janine Randall -

Ken on 5 string banjo, Janine on piano.

-
Jam session 5PM, followed by potluck dinner (bring a dish or a beverage). Concert 7-9PM
Donation $20 (kids $10)
AFTERNOON WORKSHOPS!!! 2-4PM Ken and Janine will be offering workshops in Melodic banjo and Cape Breton style piano. Fee will be $30 for either of the 2 hour sessions.. Here's some info:
Melodic Clawhammer Banjo (taught by Ken Perlman): The techniques of melodic-style give you the power to make fiddle tunes from Southern, Northern & Celtic traditions – and virtually any other kind of music – sound great on banjo. In this workshop we'll refine and perfect your right hand mechanics so you can use drop and double thumbing on virtually every string and in every possible permutation. Then we'll explore other important areas such as improving the efficiency and power of your hammer-ons and pull-offs, mastering alternate-string pull-offs, using melodic fingering forms, playing up the neck, and exploring techniques for effectively expressing syncopation. Skill level is projected as intermediate and up, but will be adapted to the playing abilities of those who attend.
Janine Randall: Learning Cape Breton piano style, technique, timing, bass runs to jigs, and reels especially. More to come!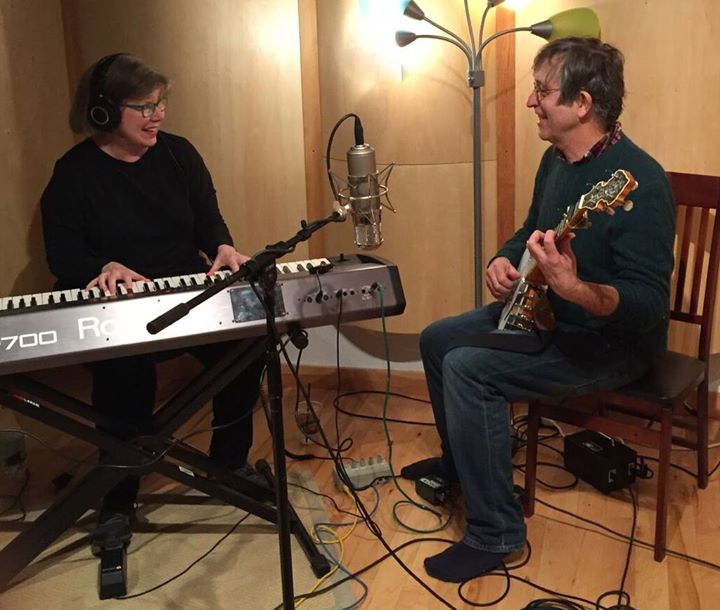 Ken Perlman & Janine Randall present fiddle-music from Prince Edward Island, Cape Breton & elsewhere on clawhammer banjo and piano, as represented on the new CD Frails & Frolics. Ken is a pioneer of the 5-string banjo style known as melodic clawhammer; he is considered one of the top clawhammer banjo players in the world, known in particular for his skillful adaptations of Celtic, Appalachian, & Canadian fiddle tunes to the style. Also an independent folklorist, Ken spent close to two decades collecting tunes and oral histories from traditional fiddle players on Prince Edward Island in Eastern Canada; he fell in love with their music and has successfully captured its sound and spirit on his instrument. Janine grew up in a home steeped with traditional Cape Breton music and learned the art of Cape Breton style piano accompaniment from her mother, who often played for such fiddling notables as Angus Chisholm, Johnny Wilmot and Bill Lamey. She herself founded the Ceilidh Trail School of Celtic Music devoted to teaching Cape Breton fiddle, piano and dance, and has toured with such well-known contemporary players as Jerry Holland, Brenda Stubbert, Andrea Beaton, and many more. Also an independent researcher, Janine has presented papers on Cape Breton fiddle and piano style in Aberdeen Scotland, St. John's NFLD, and Derry Ireland. Together they create a new take on a powerful music tradition.
"Listening to Ken Perlman fly through a set of dance tunes provides a masterclass on the melodic possibilities not often explored on the five-string banjo. The tunes showcase Perlman's immaculate playing style. It's truly a marvel how he can manage to sound all notes of a fiddle. His triplets and trills are masterful. . . Perlman is accompanied by Janine Randall on piano; there is something delightful in the interplay between Perlman's banjo and Randall's piano in this particular style of music. The banjo-piano duets are playful and airy . . ." (Glory Beaming Banjo Blog)
Fiddler Katie McNally and guitarist Yann Falquet.. Jam session 5PM, followed by potluck dinner (bring a dish or a beverage). Concert 7-9PM Donation $20 (kids $10)
Two of Boston's preeminent Celtic musicians Katie McNally and Yann Falquet come together in a brand-new collaboration featuring McNally's alternately driving and sensitive fiddling, anchored by Falquet's propulsive guitar. Called "...the new face of Scottish fiddling in the USA" (The Living Tradition), Katie tours regularly with her bands Fàrsan and Childsplay, performing and teaching across North America and Europe. Yann is one the leading voices in traditional Quebecois music and his involvement in the province's traditional music scene has brought him to perform on numerous recordings, and to tour throughout Canada, the U.S., Europe and Australia with his main project Genticorum.
Reservations are encouraged for all concerts, to reserve a seat or for more info: pam@pamweeks.com
, or call 207-666-3709